Sharon Regional Medical Center receives Get With The Guidelines-Stroke Silver Plus Quality Achievement Award
July 27 2018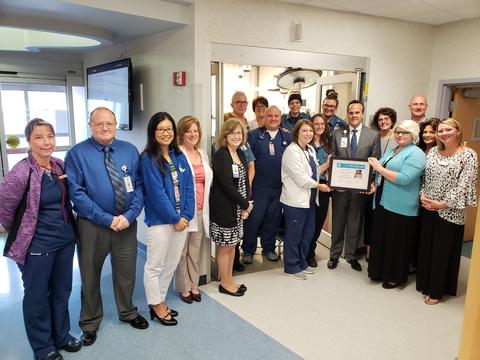 Sharon Regional Medical Center, a Steward Family Hospital, has received the American Heart Association/American Stroke Association's Get With The Guidelines®-Stroke Silver Plus Quality Achievement Award. The award recognizes the hospital's commitment to ensuring stroke patients receive the most appropriate treatment according to nationally recognized, research-based guidelines based on the latest scientific evidence.
        Sharon Regional earned the award by meeting specific quality achievement measures for the diagnosis and treatment of stroke patients at a set level for a designated period. These measures include evaluation of the proper use of medications and other stroke treatments aligned with the most up-to-date, evidence-based guidelines with the goal of speeding recovery and reducing death and disability for stroke patients. Before discharge, patients should also receive education on managing their health, get a follow-up visit scheduled, as well as other care transition interventions.
        "The fact that Sharon Regional is the county's only hospital to receive this award and the only designated accredited primary stroke center, shows our complete dedication to improve the quality of care for our stroke patients," stated Joseph Hugar, Sharon Regional's president.   "Through the implementation of the American Heart Association's Get WithThe Guidelines-Stroke initiative that provides the tools and resources to help us track and measure our success in meeting the clinical guidelines, we are extremely proud of our team of highly skilled physicians and clinical staff who are committed to providing quality patient care focused on improving the outcomes of stroke patients that come to us for care." 
        Sharon Regional additionally received the association's Target: StrokeSM award. To qualify for this recognition, hospitals must meet quality measures developed to reduce the time between the patient's arrival at the hospital and treatment with the clot-buster tissue plasminogen activator, or tPA, the only drug approved by the U.S. Food and Drug Administration to treat ischemic stroke.
        "We are pleased to recognize Sharon Regional Medical Center for their commitment to stroke care," said Eric E. Smith, M.D., national chairman of the Get With The Guidelines Steering Committee and an associate professor of neurology at the University of Calgary in Alberta, Canada. "Research has shown that hospitals adhering to clinical measures through the Get With The Guidelines quality improvement initiative can often see fewer readmissions and lower mortality rates."
        According to the American Heart Association/American Stroke Association, stroke is the No. 5 cause of death and a leading cause of adult disability in the United States. On average, someone in the U.S. suffers a stroke every 40 seconds and nearly 795,000 people suffer a new or recurrent stroke each year.
###
About Sharon Regional Medical Center
Sharon Regional Medical Center one of the leading community healthcare providers; a 220 licensed, acute care bed hospital with 19 satellite centers located throughout the region. As a Joint Commission accredited hospital, Sharon Regional Medical Center offers specialized services including the Heart and Vascular Center, emergency heart attack/stroke treatment, cancer care, orthopedics/sports medicine, minimally invasive surgery, general surgery, emergency care, a women's center, behavioral health services, and a breast care center.  Sharon Regional Medical Center is conveniently located in northwestern Pennsylvania, midway between Pittsburgh, Erie, and Cleveland, Ohio.  For more information, visit www.sharonregionalmedical.org.
About Get With The Guidelines®
Get With The Guidelines® is the American Heart Association/American Stroke Association's hospital-based quality improvement program that provides hospitals with tools and resources to increase adherence to the latest research-based guidelines. Developed with the goal of saving lives and hastening recovery, Get With The Guidelines has touched the lives of more than 6 million patients since 2001. For more information, visit heart.org.
About Steward Health Care
Steward Health Care, the largest for-profit private hospital operator in the United States, is a physician-led health care services organization committed to providing the highest quality of care in the communities where patients live. Steward operates 39 community hospitals in the United States and the country of Malta, that regularly receive top awards for quality and safety. The company employs approximately 40,000 health care professionals. The Steward network includes more than 25 urgent care centers, 42 preferred skilled nursing facilities, substantial behavioral health services, over 7,300 beds under management, and approximately 1.5 million full risk covered lives through the company's managed care and health insurance services. The total number of paneled lives within Steward's integrated care network is projected to reach 3 million in 2018.
Steward's unique health care service delivery model leverages technology, innovation, and care coordination to keep patients healthier. With a culture that prioritizes agility, resourcefulness, and continuous improvement, Steward is recognized as one of the world's leading accountable care organizations. The Steward Health Care Network includes thousands of physicians who help to provide more than 12 million patient encounters per year. Steward Medical Group, the company's employed physician group, provides more than 4 million patient encounters per year. The Steward Hospital Group operates hospitals in Malta and states across the U.S. including Arizona, Arkansas, Colorado, Florida, Louisiana, Massachusetts, Ohio, Pennsylvania, Texas, and Utah.