Walk This Way - Healthy Steps Walking Program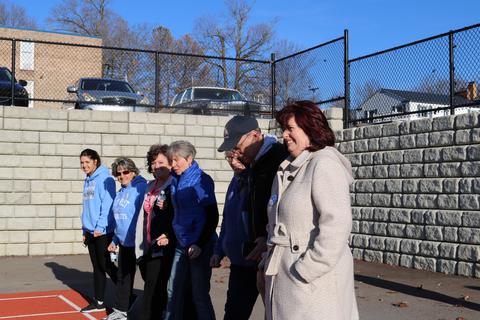 By HOLLY PATTERSON
[email protected]
The first Wednesday of April was designated National Walking Day, and as part of the observance, Sharon Regional Medical Center and the American Heart Association teamed up with Thiel College to kick off "Healthy For Good," as part of Move More Day.
About a dozen walkers — including Thiel President Susan Traverso and her husband Kent Taylor — participated Wednesday at the Thiel College track.
"We are excited to welcome (Sharon Regional parent company) Steward and Sharon Regional to our campus," she said. "Any time that we can promote healthy living, it is a good thing for our community."
From Sharon Regional, Lisa Bertolasio, director of the diabetes center; Teresa Trontel, director of corporate health and employee health; and Mary Jane Larmon, director of the Sharon Regional School of Nursing, met with the participants for the first meeting of Healthy For Good.
"This is the American Heart Association's National Walking Day," Larmon said. "So we are in several different communities to get community interest in getting people walking for heart health."
Walking, one of the easiest and least expensive things to improve health, is something that can be done just about anywhere.
"We are hoping that, with people getting their neighbors and friends out, they can just do it together, and we are here to support them in getting started," Larmon said.
Friends, including Mary Ann Skiff and Marilyn Moore, first were introduced to the program when Bertolasio spoke about it at the Greenville Senior Center.
"I am looking to get my numbers down, and to lose some weight," Skiff said.
Of the partnership with Thiel, Bertolasio said the Greenville community was a focus in which to expand outreach, and Thiel's new facility provided a great location, especially as the college has been working with Trontel and the corporate health department to get the campus healthier.
"We find that people are more successful in any activity if they go with somebody they know," Bertolasio said.
Vice President for College Advancement Roberta Leonard said she looks forward to seeing visitors on campus: "We are always happy to see visitors coming to campus and using the facilities. With summer coming, I have a feeling this track will be used a lot."
To encourage people to be healthy throughout the year, Leonard said the college looks to continue the program when the dome is up, providing a temperature-controlled area where people can get in their steps.
"We are signing people in, and are looking to get some T-shirts and other incentives, to keep them focused," Bertolasio said. "We have ordered some pedometers, and those should be coming in. The idea is to give them a foundation to get started and then hopefully continue that practice. We advocate for three to five days a week, 30 minutes."
While the program is just starting, Sharon Regional and the AHA hope to hold meetings a couple times a month for people to check in, plus the health system will share health information — including heart health, nutrition, immunizations and more — with the participants.
"Even small steps can make a big difference," Ashley Bateman, of Sharon Regional, said. "And the healthiest habits start with one simple step. This initiative lets people know that they can make a big difference in their health by walking more and being physically active on a regular basis."
The track at Thiel, unless a track meet or other engagement is happening, will be open for public use, Leonard said.
If anyone is interested in participating, contact Bateman at 724-983- 3806 or Tracy Behnke at the AHA at 330-318- 4463.