Rehabilitation Therapy Services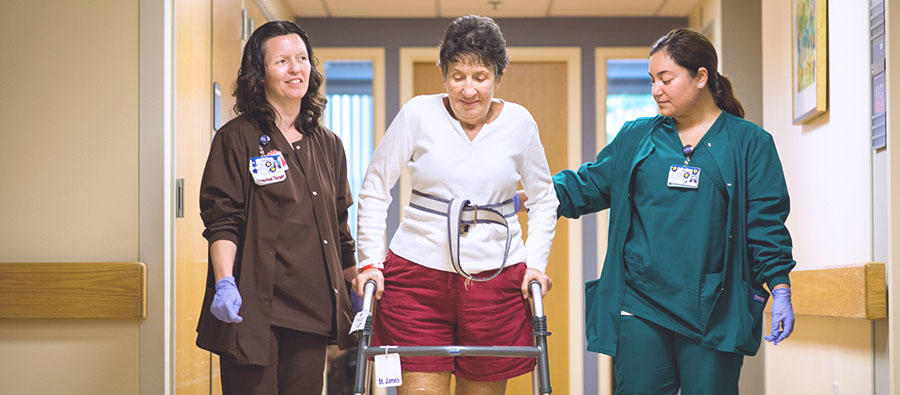 We are here to help you find what you need.
Our therapists evaluate each patient's skill level, disability, needs, and rehabilitation potential to determine the most effective treatment approaches for that patient. More than 200 new patients are choosing Sharon Regional Medical Center each month for their outpatient rehabilitation needs.
Aquatic Therapy: Our rehabilitation team offers aquatic therapy to help those who are currently under a doctor's care or suffer from an acute or chronic injury or condition such as arthritis, fibromyalgia, chronic pain, fractures, or athletic injuries.
Audiology Services: Our rehabilitation team provides audiology services, including diagnostic hearing screenings and evaluations to all age groups. 
Occupational Therapy: Our team provides services for adolescents, adults and geriatric members of our community. The adult population is serviced through the use of therapeutic modalities to assist with strengthening, pain relief, swelling control, and muscle re-education along with dynamic functional activities to improve independence in activities of daily living.
Pediatric Rehabilitation: Our program specializes in treating conditions from infancy through adolescence. Our licensed therapists and assistants specialize in the treatment and rehabilitation of a wide variety of conditions, including prematurity or low birth weight, developmental delays in fine motor, feeding, dressing, social skills or play, chromosomal disorders and more.
Physical Therapy: Our rehabilitation team provides physical therapy services to adolescents, adults and geriatric members of our community with impairments due to developmental disorders, orthopedic and neurologic disorders.
Pulmonary Rehabilitation: We provide pulmonary rehabilitation for patients with lung disease in Mercer and Lawrence counties. The goal of pulmonary rehabilitation is to slow down and potentially minimize the progression of the symptoms of lung disease.
Speech Therapy: Our rehabilitation team provides speech therapy survives for adults in need of evaluation and treatment for conditions of developmental, cognitive, swallowing, voice, and communication impairments.
Outpatient Rehabilitation: Our program offers patients quality care and assistance for recovery from illness, injury or surgery. Injury prevention services are also provided. The outpatient rehabilitation team at Sharon Regional Medical Center provides:
The only full-service specialized pediatric rehabilitation department

Evening hours to meet the needs of patients with busy schedules

Convenient locations throughout the area

No waiting to start treatment

Evaluations available within two working days

Speech therapy

Physical therapy

Occupational therapy

Audiology services

Specialty programs: 

Aquatics/Therapeutic Pool, 

Back and Neck Pain Care, 

Balance Recovery and Fall Prevention, 

Hand Therapy/Upper Extremity Rehabilitation, 

Lymphedema/Cancer Exercise Training, 

Pediatric Rehabilitation, and 

Sports Medicine
Inpatient Rehabilitation: Staffed with 24/7 nursing care, our facility offers inpatient rehabilitation services to hospitalized patients and is dedicated to helping people rebuild their lives after illness or injury. Types of conditions treated may Include:
Stroke

Major trauma

Brain injury

Amputations

Spinal cord injury

Orthopedic dysfunction (hip fractures, bilateral knee replacements, etc)

Multiple sclerosis

Polyneuropathy

Muscular dystrophy

Parkinson's disease

Guillain-Barre

Critical myopathy

Cardiac surgery
An interdisciplinary team approach is used to focus on the areas of:
Increasing mobility (walking, wheelchair use, stairs)

Increasing self-care skills (feeding, bathing, dressing)

Maximizing strength and independence

Maximizing the quality of life

Methods to conserve energy

Therapeutic exercises

Use of adaptive equipment or durable medical equipment

Adjustment to changing life roles

Management of medical complications

Home modification recommendations
For inpatient rehabilitation, we welcome referrals from physicians, case managers, social workers, family members, insurance representatives, and self-referrals. A physician must approve all admissions.
To be eligible for admission, patients must need medical monitoring, need at least two forms of therapy, be willing and able to participate in extensive therapy, have potential to improve function and achieve independence, and have a disability of recent onset or progression.
A preadmission screen by a representative of the rehabilitation unit will be provided to all referred patients. There is no charge for this evaluation.
What patients should bring for their stay:
Comfortable pants or shorts

Comfortable shirts (button-up or wide opening necklines)

Supportive shoes (tennis shoes or shoes with non-skid soles and laces)

Eyeglasses

Dentures

Hearing aids

Prosthesis, if applicable

Walker, cane, or personal wheelchair, if applicable

Toiletries, including shaving supplies

List of medications

Your insurance cards
To make a referral, call 724-983-3954 and ask for the program director or clinical liaison. Please be prepared to provide the patient's name, address, diagnosis, insurance and a contact telephone number.