Expert surgical care and the latest technology is available close to home. As an alternative to traditional open surgery, Sharon Regional Medical Center offers innovative robotic-assisted surgery.
da Vinci™ Surgical System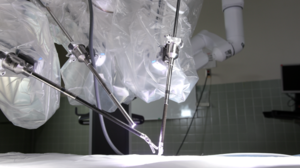 Robotic surgery is currently available at Sharon Regional using the da Vinci™ Surgical System and minimally invasive surgical techniques.  The da Vinci™ robot uses specialized "arms" for holding instruments and a camera, while the surgeon uses a magnified screen and a console to control the robot and the surgery.
Minimally Invasive Surgery
Minimally invasive basically means, smaller incisions. *The advantages of minimally invasive techniques are usually requiring shorter hospitalization and faster recovery times for patients. Other benefits may include: 
Less blood loss
Less scarring
Reduced risk of infection
Faster return to your normal functions and everyday life
Robotic-Assisted Surgery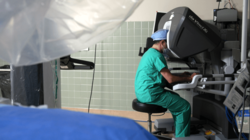 Robot-assisted surgery uses specialized technology that enhances the capabilities of your surgeon's hands. It allows surgeons to perform procedures in hard-to-reach areas through small incisions. The specialized technology also enables precise movements and enhanced magnification.
The technology consists of:
Surgical arms with tiny instruments with wrists at the tip.
Special camera that provides enhanced magnified 3D views of the surgical area.   
Surgical console where the surgeon controls the instrument and camera's every move.
     
The robot never makes decisions or performs incisions. Rather, the surgeon is controlling how the robot proceeds, and the robot allows for greater precision than the human hand on its own.
The robotic system can be compared to video gaming. When playing video games, you move a control button, and the machine translates your movements into real-time, mimicking your moves precisely on the screen. During a robotic-assisted procedure, your surgeon uses master controls to manipulate the instruments, and the instruments translate your surgeon's movements into precise movements inside your body. 
The robotic system cannot "think" on its own. It only responds to your surgeon's precise hand and finger movements. Your surgeon is in the operating room, directing the procedure the entire time.
Benefits of Robotic-Assisted Surgery*
In addition to the advantages of minimally invasive surgery listed above, the surgeon has better visualization, leading to a more precise surgery. Other benefits include:  
Greater range of motion and dexterity for the surgeon
Highly-magnified and high-resolution image of surgical area of the body
Possible better access to the surgical area, especially in areas of the body that are more difficult to reach
Likelihood of better clinical outcomes
     
Current Specialties offering Robotic-Assisted, Minimally Invasive Surgery at Sharon Regional:
General Surgery
Bariatric Surgery
Urology
*Typical results depend on many factors. Consult your surgeon about the benefits and risks of robotic-assisted surgery for your condition. Before you decide on surgery, discuss treatment options with your provider. Understanding the risks and benefits of each treatment can help you make the best decision for your individual situation.
Our Team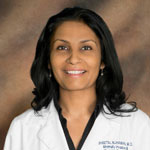 Sheetal Nijhawan, MD
Surgery, General & Bariatric Surgery

Randy Hofius, DO
Surgery, General Surgery

David Thomas, DO
Surgery, General Surgery

Mohammed Al-Areef, MD
Surgery, Urology