Sharon Regional Medical Center Among Nation's Top Performing Hospitals for Treatment of Heart Attack Patients for Fifth Consecutive Year
June 15 2018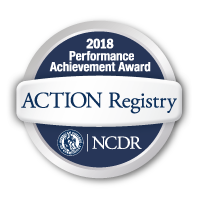 Sharon Regional Medical Center, a Steward Family Hospital, has received the American College of Cardiology's NCDR ACTION Registry Platinum Performance Achievement Award for 2018. SRMC is one of only 203 hospitals nationwide to receive the honor.  Sharon Regional has received this annual recognition consecutively since 2013.
The award recognizes Sharon Regional Medical Center's commitment and success in implementing a higher standard of care for heart attack patients and signifies that Sharon Regional has reached an aggressive goal of treating these patients to standard levels of care as outlined by the American College of Cardiology/American Heart Association clinical guidelines and recommendations.
To receive the ACTION Registry Platinum Performance Achievement Award, Sharon Regional has demonstrated sustained achievement in the ACTION Registry for eight consecutive quarters and has performed at the top level of standards for specific performance measures. Full participation in the registry engages hospitals in a robust quality improvement process using data to drive improvements in adherence to guideline recommendations and overall quality of care provided to heart attack patients.
"To receive this level of distinction from the American College of Cardiology is an award that has a direct impact on the communities and patients we have the honor of serving," said Joseph Hugar, president of Sharon Regional. "Residents across our region and in our local communities, including Mercer, Lawrence, and Venango counties can have the utmost confidence that our physicians and clinical teams deliver the highest level of care in every aspect of our comprehensive cardiology program and emergency care services."  Hugar concluded, "We take great pride in knowing that this award places the medical center in the elite company of only a handful of hospitals nationwide to earn this distinction."
"As a Platinum Performance Award recipient, Sharon Regional Medical Center has shown it is a leader in implementing standards of care and protocols for its patients," said Deepak L. Bhatt, MD, MPH, FACC, Chair, ACTION Registry; Executive Director of Interventional Cardiovascular Programs, Brigham and Women's Hospital Heart and Vascular Center; and Professor of Medicine, Harvard Medical School. "By meeting the requirements set forth in the registry and establishing a culture of providing guideline-recommended therapy, Sharon Regional Medical Center is saving lives and improving outcomes of heart attack patients."
According to James Ryan, M.D., interventional cardiologist and medical director of the Heart and Vascular Center at Sharon Regional and with Steward Medical Group, "This achievement exemplifies the commitment of our medical staff and clinical professionals to put our patients first by providing them with the highest quality of care possible.  We will continue to strive to exceed this standard of care as the leader in cardiac care for our community."
The Center for Disease Control estimates that over 700,000 Americans suffer a heart attack each year. A heart attack occurs when a blood clot in a coronary artery partially or completely blocks blood flow to the heart muscle. Treatment guidelines include administering aspirin upon arrival and discharge, timely restoration of blood flow to the blocked artery, smoking cessation counseling and cardiac rehabilitation, among others.
ACTION Registry empowers health care provider teams to consistently treat heart attack patients according to the most current, science-based guidelines and establishes a national standard for understanding and improving the quality, safety and outcomes of care provided for patients with coronary artery disease, specifically high-risk heart attack patients.
"The Platinum Performance Award is a recognition of the team effort at Sharon Regional's Heart and Vascular Center," noted Gary Marrone, MD, medical director of the Open Heart program at Sharon Regional. "Our entire team works diligently to provide a high quality cardiovascular program right here in Mercer County.  Many times, patients come to us under emergency circumstances. They, along with their families, can be reassured that whether it is an emergency or a planned cardiac procedure, they are in outstanding, capable hands."
Sharon Regional Medical Center
Sharon Regional Medical Center is your community healthcare provider; a 220 licensed, acute care bed hospital with 19 satellite centers throughout the region. As a Joint Commission accredited hospital, Sharon Regional Health System proudly offers specialized services including the Heart and Vascular Center, emergency heart attack/stroke treatment, cancer care, orthopedics/sports medicine, minimally invasive surgery, emergency care, a women's center, behavioral health, and a breast care center.  Sharon Regional Medical Center is conveniently located in northwestern Pennsylvania, midway between Pittsburgh, Erie, and Cleveland, Ohio.
The American College of Cardiology
The American College of Cardiology is the professional home for the entire cardiovascular care team. The mission of the College and its more than 52,000 members is to transform cardiovascular care and to improve heart health. The ACC leads in the formation of health policy, standards and guidelines. The College operates national registries to measure and improve care, offers cardiovascular accreditation to hospitals and institutions provides professional medical education, disseminates cardiovascular research and bestows credentials upon cardiovascular specialists who meet stringent qualifications. For more, visit acc.org.
Steward Health Care
Steward Health Care, the largest for-profit private hospital operator in the United States, is a physician-led health care services organization committed to providing the highest quality of care in the communities where patients live. Steward operates 39 community hospitals in the United States and the country of Malta, that regularly receive top awards for quality and safety. The company employs approximately 40,000 health care professionals. The Steward network includes more than 25 urgent care centers, 42 preferred skilled nursing facilities, substantial behavioral health services, over 7,300 beds under management, and approximately 1.5 million full risk covered lives through the company's managed care and health insurance services. The total number of paneled lives within Steward's integrated care network is projected to reach 3 million in 2018.
Steward's unique health care service delivery model leverages technology, innovation, and care coordination to keep patients healthier. With a culture that prioritizes agility, resourcefulness, and continuous improvement, Steward is recognized as one of the world's leading accountable care organizations. The Steward Health Care Network includes thousands of physicians who help to provide more than 12 million patient encounters per year. Steward Medical Group, the company's employed physician group, provides more than 4 million patient encounters per year. The Steward Hospital Group operates hospitals in Malta and states across the U.S. including Arizona, Arkansas, Colorado, Florida, Louisiana, Massachusetts, Ohio, Pennsylvania, Texas, and Utah.