Sharon Regional Medical Center and Steward Medical Group Welcomes Lawrence County Pediatric Group
October 12 2018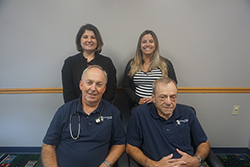 Sharon, PA – Sharon Regional Medical Center and Steward Medical Group are pleased to welcome the practice of Richard A. Papa and Associates, with offices in Neshannock Township in Lawrence County, to the Steward Health Care System. 
The pediatric group consists of Richard Papa, D.O., Walter Bender, D.O., Jennifer Presnar, M.D., and Erika Cialella, PA-C. Dr. Papa has practiced pediatric medicine for more than 20 years and combined with members of the medical team, have more than 55 years of experience in treating pediatric patients in Lawrence County and surrounding communities. 
"We are excited to welcome Dr. Papa and his experienced team to Sharon Regional," stated Joseph Hugar, President of Sharon Regional Medical Center.   The addition of their practice means that families now have access to an expanded continuum of pediatric services across communities in both Mercer and Lawrence counties."  Hugar continued, "This expansion is essential to meeting the increasing number of deliveries we are experiencing in our Women's Care Center at Sharon Regional.  We anticipate that those numbers will continue to increase over the foreseeable future."
Additional recent recruitment initiatives for Sharon Regional include; a cardiothoracic surgeon, general surgeon, cardiologist, orthopedic surgeon and women's health nurse practitioner.  This will enable Sharon Regional to expand its service offerings, eliminate the need for patients to travel to Pittsburgh or Cleveland for care, and provide important patient choice for those seeking health care services.
By joining Steward Medical Group, Drs. Papa, Bender, and Presnar, along with Erika Cialella, licensed physician assistant, are affiliated with Sharon Regional Medical Center. The hospital has recently received numerous quality awards and distinctions, including receiving accreditation as the region's only Blue Cross Distinction Center + for Maternity Care and the Platinum Performance Achievement award for heart attack care for 5 consecutive years.
"We are very happy to be joining Steward Medical Group," stated Dr. Papa. "We believe our patients will greatly benefit from the services and resources available through Steward and Sharon Regional Medical Center." 
Steward Medical Group is a dynamic and growing physician-led multispecialty practice group that is a key part of Steward Health Care, the largest private for-profit hospital operator in the United States. The medical group employs nearly 1,750 physicians in 11 states, with both primary care and specialties ranging from Women's Health to Advanced Cardiac Surgery.
"We are proud to welcome the Pediatric Group to Steward Medical Group," said Sanjay Shetty, MD, MBA, president of the medical group. "Local area physicians believe in our patient-centric approach which focuses on achieving the highest possible quality at an affordable price, and providing the best health care to our patients in a setting close to home."
The group is taking new patients.  Their office is located at 183 Enclave Drive, New Castle, PA.  Anyone needing additional information or to schedule an appointment may call the office Monday through Friday from 8 a.m. – 4:30 p.m. at 724-654-9910.  Sharon Regional accepts UPMC Health Plan, Highmark Blue Cross Blue Shield as well as most major insurances.