Sharon Regional Medical Center Welcomes New President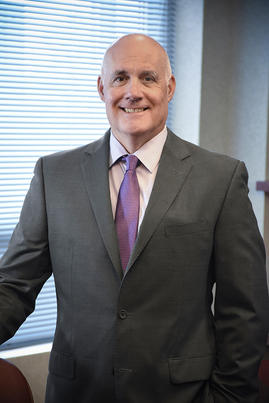 Sharon, PA (August 26, 2020) – Sharon Regional Medical Center announced today that Robert Rogalski has been named as the new President of Sharon Regional Medical Center.
A seasoned administrator with more than 25 years of experience in the health care industry, Rogalski brings a wealth of knowledge in health care management and hospital operations, with a passion for clinical excellence and providing the highest quality patient experience. Before joining Sharon Regional, Rogalski served for more than a decade as CEO of Excela Health in Greensburg, PA. Earlier in his career, he held leadership roles at Allegheny General Hospital and UPMC. 
"We are excited to welcome a leader of Bob's caliber to the Sharon Regional family. His credentials and industry experience in leading health care systems is the perfect match as we look to the future of Sharon Regional Medical Center," said John Pierro, North Region Chief Operating Officer for Steward Health Care. "Bob will continue to position Sharon as the premier community hospital in the region, bringing a new model of health care to better serve patients through the highest quality care at an affordable cost."
"I look forward to the opportunity to lead Sharon Regional Medical Center and its dedicated team of physicians, nurses and support teams," stated Rogalski.  "I understand the importance of what the tradition of a community hospital represents to the Mercer County community and am eager to engage with patients, families, businesses and elected officials to reinforce our commitment to deliver quality health care programs and services."
Rogalski received his undergraduate degree from St. Vincent College in Latrobe, PA, and later earned his Juris Doctorate from the University of Pittsburgh School of Law.
About Sharon Regional Medical Center
Sharon Regional Medical Center is your community health care provider; a 184-bed licensed, acute care hospital with 19 satellite centers throughout the region.  As a Joint Commission accredited hospital, Sharon Regional Medical Center proudly offers specialized services including the Heart and Vascular Center, emergency heart attack/stroke treatment, cancer care, orthopedics/sports medicine, minimally invasive surgery, emergency care, a women's center, accredited bariatric center and a breast care center. Visit www.sharonregionalmedical.org.
About Steward Health Care
Steward Health Care is the largest private, for-profit health care network in the United States. The company is owned and led by a management team of Steward physicians.
Headquartered in Dallas, Texas, Steward employs more than 40,000 health care professionals and operates 35 hospitals across the United States and in the country of Malta which regularly receive top awards for quality and safety. The Steward network includes multiple urgent care centers and skilled nursing facilities, substantial behavioral health services, more than 7,000 beds under management, and approximately 2.2 million full risk covered lives through the company's managed care and health insurance services.
The Steward Health Care Network includes more than 5,000 physicians across 800 communities who help to provide more than 12 million patient encounters annually. Steward Medical Group, the company's employed physician group, provides more than six million patient encounters per year. The Steward Hospital Group operates hospitals in Malta and nine states across the U.S., including Arizona, Arkansas, Florida, Louisiana, Massachusetts, Ohio, Pennsylvania, Texas, and Utah. For more information, visit www.steward.org.