Sharon Regional Medical Center and Steward Medical Group Welcomes new family practice physician, Kayla Milano, MD, to Mercer County
Sharon, PA (September 30, 2020) – Sharon Regional Medical Center, and Steward Medical Group are pleased to welcome Kayla Milano, MD, who joins the practice of Steward Primary Care Hermitage located at 2435 Garden Way, Suite 102 in Hermitage, PA.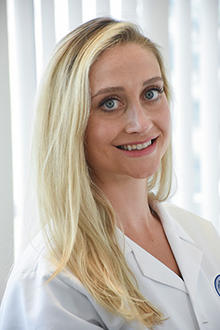 Dr. Milano is board-certified in family medicine and has special interests in the areas of general women's health, annual wellness exams, sports, preoperative and employment physicals. Dr. Milano also treats medical conditions including hypertension and diabetes as well as common illnesses including cold, cough and flu in adult patients. Dr. Milan earned her medical degree from Ross University School of Medicine in Bridgetown, Barbados and completed her residency at the medical College of Wisconsin/Fox Valley Family Medicine in Wauwatosa, WI.   
"I am excited to join the team at Steward Primary Care Hermitage and the medical staff at Sharon Regional Medical Center," stated Dr. Milano.  "I welcome the opportunity to get introduced to the community and work to improve the health and well-being of the residents of Mercer County."
Dr. Milano joins Steward Primary Care Hermitage that includes physicians Robert Morgenstern, M.D., Internal Medicine, Daniel Bee, DO, Family Medicine, and Jay Porter, DO, Family Medicine, as well as nurse practitioner, Tonya Telesz, CRNP.
Dr. Milano is accepting new patients and appointments can be made by calling the Hermitage office at 724-981-1777 or can be booked online.
About Sharon Regional Medical Center
Sharon Regional Medical Center is your community health care provider; a 184-bed licensed, acute care hospital with 19 satellite centers throughout the region.  As a Joint Commission accredited hospital, Sharon Regional Medical Center proudly offers specialized services including the Heart and Vascular Center, emergency heart attack/stroke treatment, cancer care, orthopedics/sports medicine, minimally invasive surgery, emergency care, a women's center, accredited bariatric center and a breast care center. Visit www.sharonregionalmedical.org.
About Steward Health Care
Steward Health Care is the largest private, for-profit health care network in the United States. The company is owned and led by a management team of Steward physicians.
Headquartered in Dallas, Texas, Steward employs more than 40,000 health care professionals and operates 35 hospitals across the United States and in the country of Malta which regularly receive top awards for quality and safety. The Steward network includes multiple urgent care centers and skilled nursing facilities, substantial behavioral health services, more than 7,000 beds under management, and approximately 2.2 million full risk covered lives through the company's managed care and health insurance services.
The Steward Health Care Network includes more than 5,000 physicians across 800 communities who help to provide more than 12 million patient encounters annually. Steward Medical Group, the company's employed physician group, provides more than six million patient encounters per year. The Steward Hospital Group operates hospitals in Malta and nine states across the U.S., including Arizona, Arkansas, Florida, Louisiana, Massachusetts, Ohio, Pennsylvania, Texas, and Utah. For more information, visit www.steward.org.