Steward Medical Group Welcomes Hussam Tallab, MD, Otolaryngologist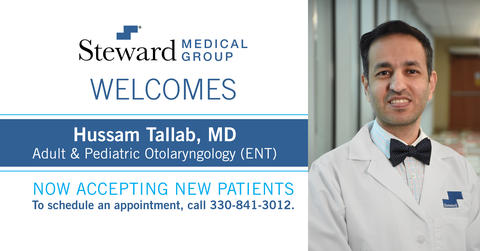 The addition of Dr. Tallab increases access to exceptional ear, nose, and throat services in the Valley. 
Trumbull Regional Medical Center and Steward Medical Group are pleased to welcome Dr. Hussam Tallab to Steward Otolaryngology, Cortland, located in Steward's Outpatient Center for Surgery at 2580 Elm Road, Building A in Cortland.  
With over 10 years of clinical and research experience, Dr. Tallab is one of the few ear, nose, and throat surgeons in the nation who is fellowship-trained in Rhinology, Otology, and Pediatric Otolaryngology in three top academic institutes in the U.S. He has a robust clinical interest in chronic sinusitis, nasal polyposis, minimally invasive sinus surgery, and hearing loss.
"We are proud to have Dr. Tallab join the Medical Staff at Trumbull Regional Medical Center" said Cindy Russo, President at Trumbull Regional. "Our patients will benefit from his skills and expertise in otolaryngology, as well as his commitment to providing care to the community," said Russo.
Dr. Tallab earned his medical degree from Al-Nahrain Medical School and completed an Otolaryngology and a head and neck surgery residency at the Royal Medical Services in Amman, Jordan followed by a Post-Doctoral Fellowship at the Smell and Taste Center at the University of Pennsylvania. He also completed an Advanced Sinus and Skull Based Surgery Fellowship at Tufts School of Medicine at St. Elizabeth Medical Center in Boston, MA, an Advanced Otology/Neurotology Fellowship at the University of Minnesota, and a Pediatric Otolaryngology Fellowship at University of Missouri-Kansas City School of Medicine.
"I am thrilled to join the Steward Medical Group family at Trumbull Regional Medical Center and provide personalized, high-quality otolaryngology services to the Mahoning Valley" said Dr. Tallab. "Having healthy ears, noses, and throats is essential in allowing us to take in everything going on around us and affects the way we communicate, hear, eat, smell, and our overall health." said Tallab. 
DIRECTORY
Hussam Tallab, MD, is accepting new patients at the following location:
Steward Otolaryngology Specialists, Cortland
2580 Elm Road, Building A
Cortland, OH 44410
Phone: 330-841-3012
Fax: 330-841-3015