Steward Medical Group Welcomes Navdeep Tandon, MD, Interventional Cardiologist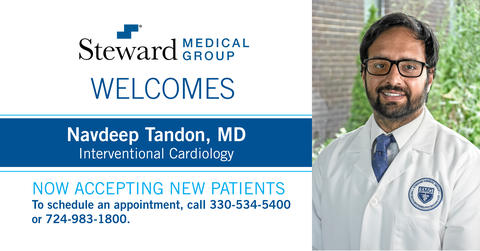 The addition of Dr. Tandon increases access to exceptional heart care to the community.
Sharon Regional Medical Center and Steward Medical Group are pleased to welcome Dr. Navdeep Tandon to Steward Cardiology, Hubbard, located at 880 W. Liberty Street in Hubbard.
Dr. Tandon has advanced training in interventional cardiology and heart failure. He has robust clinical interest in cardiovascular disease, coronary angiography, angioplasty, peripheral arterial disease (PAD), and advanced heart failure.
"We are proud to have Dr. Tandon join the Medical Staff at Sharon Regional Medical Center," said Robert Rogalski, President at Sharon Regional Medical Center. "Our patients will benefit from his skills and expertise in interventional cardiology, as well as his commitment to provide the highest quality of heart care to the community."
Dr. Tandon earned his medical degree from Northeast Ohio Medical University (NEOMED) in Rootstown, Ohio. He completed an Internal Medicine Residency at Cleveland Clinic Akron General, a Cardiology Fellowship at Summa Akron City Hospital, and an Interventional Cardiology Fellowship at Riverside Medical Center in Illinois. Dr. Tandon also completed an Advanced Heart Failure and Transplant Fellowship at UNMC Nebraska. He is a member of the American Medical Association.
"I am thrilled to join the Steward Medical Group family at Sharon Regional Medical Center and provide personalized, high-quality interventional cardiology services to the community" said Dr. Tandon. "Heart disease is the leading cause of death in the United States, and I am looking forward to not only treating heart disease in the community but preventing it."
 
DIRECTORY
Navdeep Tandon, MD, is accepting new patients at the following location:
Steward Cardiology, Hubbard
880 West Liberty Street
Hubbard, OH 44425
Phone: 330-534-5400
Fax: 330-568-4282